Attack Madness Summer Surf is a long event of Coin Master that lasts three to four days. In this event, you have to attack other people or your friends' village, for which you are given rewards. Does not matter whether you damage someone's village or not.
The further you go in this event, the more you need to attack. Together you win as many coins, Xp and spins as possible. In this post, I will give you complete information about this event.
How To Play Attack Madness Summer Surf Event.
It is very easy to play Attack Madness Summer Surf, but you have to play this event with your mind because every time Attack Symbol does not come. At the beginning of this event comes easy task which can be won in low spins bet but as you complete the task this event becomes hard. Higher Levels require more and more attacks.
The easiest way to win Attack Madness is to reduce the bet after the attack and spin each bet five to six times until you get an attack. This method works a lot because attacks don't come again and again. It takes at least twenty spins to attack.
How To Always Win In This Event?
In this event, if you want to play in profit, then you can use this method of mine. Spin 10x Every Bet Played in Attack Madness Summer Surf.
If there is no attack in 10 times, make the bet 20x and spins 10 times. If there is no attack again, make the bet 30x and spins 5 times.
Go into 10x immediately after the attack and play the game in the same way as last time. If you play like this then I am sure that you will earn well and there will be no loss. If you have a better trick, then post it in the comment section below so that your suggestion can be taken forward.
New Update In Attack Madness Summer Surf Event
These days Attack Madness has new update. What is that update so let's talk about it.
Previously where Attack Madness used to have all three attack symbol. Points are also given on single attack symbol lane in the new update such as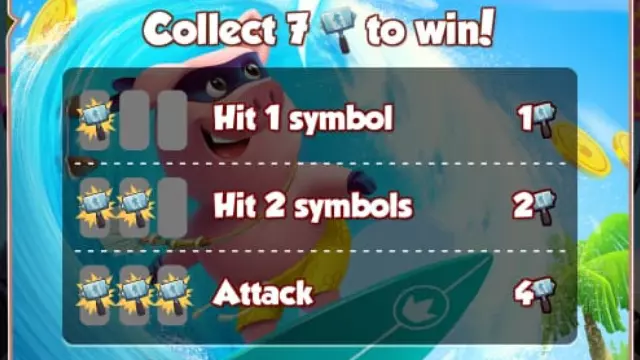 Hit 1 Symbol – 1 Point
Hit 2 Symbol – 2 Points
Hit 3 Symbol – 4 Points
It only depends on your bet, if it is 10x bet then it will be 10 points when a single attack occurs. Double symbol will be 20 points, triple attack symbol will be 40 points. The new update is much better than the previous update but sometimes an earlier update is also seen. Do you like the new one Attack Madness or the old one ? Please comment and tell.
Conclusion
I hope you must have liked this article What is Attack Madness Summer Surf Event. I always try to give readers complete information on coin master so that they do not have to search about this article on other sites or on the internet. beyond which they will also save time and get all the information in one place.
If you have any doughts about this article or you want to see some improvement, then you can comment below. If you liked this post What is attack madness and learn something, then definitely share this post on social media like Facebook, Whatsapp, Google and Twitter etc.
Thank You